Team | Giuseppe Mazzeo (chief architect), Ilke Cetin (team manager), Anirudh Sharma, Serra Unal
---
NIGHT (and) DAY non è solo il codice alfanumerico scelto per presentare questo progetto, ma rappresenta anche i nuovi scenari che piazza Roma offrirà sia di giorno che di notte. Nel progetto che abbiamo presentato, la Piazza Roma sarà infatti fortemente caratterizzata dalla copertura che individua lo spazio del mercato che garantisce 48 stalli coperti e 12 esterni. La nuova forma è stata pensata come un dispositivo ottico in grado di diminuire l'effetto prospettico di un corpo lungo e basso. Per fare ciò abbiamo fatto ricorso a stratagemmi anamorfici.
NIGHT (and) DAY is the alphanumeric code choosen for this project, but it also represent new scenarios that piazza Roma will offer during the day and the night. Piazza Roma is characterized by the public market cover that ensures 48 indoor stands ad 12 outdoor stands. The new shape was think like an optical system to reduce the perspective effect of a long and low element. In order to do this we used anamorphic tricks.
Il tentativo è stato quello di lavorare sulla forma dello spazio urbano a partire dalla sua struttura architettonica per creare uno spazio attrattivo ove lo stare prevalesse sul passare.
Si è partiti dall'analisi formale dell'architettura di Pinerolo e i principali riferimenti sono diventati l'Ala Comunale del progetto di Piazza Roma del 1880 e la Cavallerizza Caprilli.
We worked on the shape of urban space starting from its architectural structure in order to create a space to stay and not only to pass.
We started from the formal analysis of Pinerolo architecture and at the end the project of Piazza Roma in 1880 and Cavallerizza Caprilli became the main references.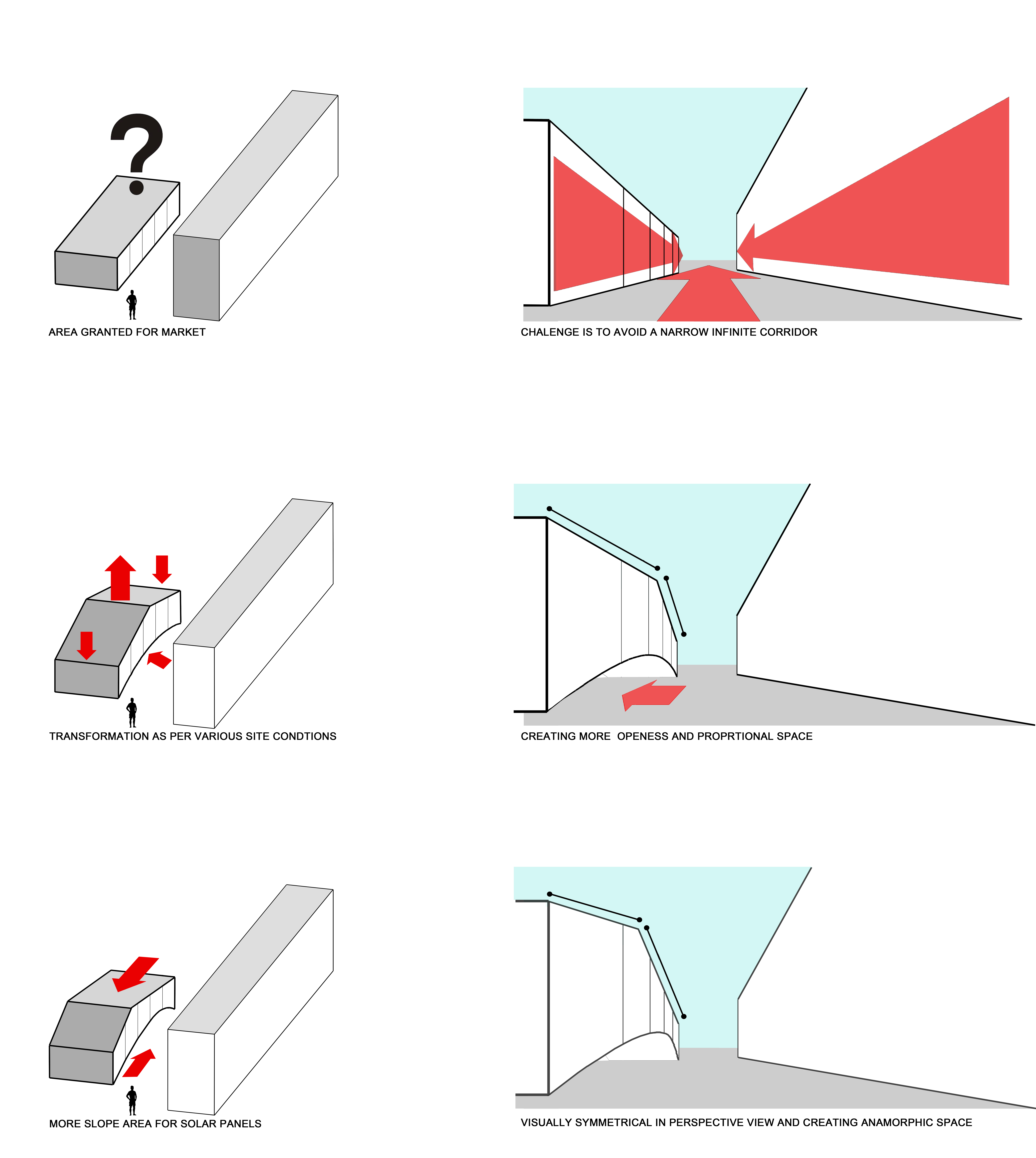 La nuova copertura dovrà garantire protezione dalle precipitazioni e dal calore dell'irraggiamento solare. D'altra parte dovrà garantire una continuità dal punto di vista spaziale e della luminosità.
Per questo motivo il volume dell'edificio è traslucido aperto su tutti e quattro i lati. Le facciate discendenti migliorano la protezione ed evocano l'idea di una grande aula. Le due falde di copertura sono state progettare per lasciare sul colmo una fessura in grado di consentire l'areazione naturale dello spazio.
The new cover had to be a protection against rainfall and solar heat. It also had to ensure spatial and light continuity. For this reason the building is translucent and open on all sites.Facades increase protection and remember a big hall. The pitched roof has a gap to allow natural ventilation.
Abbiamo scelto di utilizzare pannelli in policarbonato che garantiscono la trasparenza ricercata a costi molto accessibili. Per la copertura tali pannelli saranno utilizzati a doppio strato con interposta una camera d'aria ventilata che consentirà tanto lo smaltimento del calore da irraggiamento nelle giornate più calde quanto la riduzione dei rumori dovuti a precipitazioni atmosferiche o ai volatili.
We choosed polycarbonate panels because of their trasparency and affordability.
For this roof we used double layer panels with an air gap to allow to disperse heat and to decrese sounds of rainfall and birds. White IPE iron pillars support the roof. A 3D grid of modular structural elements compose roof structure. Cover is designed to support solar panels on south side.
La struttura della copertura, portata da pilastri in ferro (IPE) dipinti di bianco, sarà costituita da un reticolo tridimensionale di elementi strutturali modulari. Essa è dimensionata per sostenere l'eventuale posizionamento, sulla falda rivolta a sud, di pannelli fotovoltaici. La piazza sarà caratterizzata da Magnolie Grandiflora che inquadrano il nuovo mercato e da altri piccoli prunus cerasifera che delineano l'area delle panchine e altre piccole zone verdi. Agli angoli della struttura sono presenti il fioraio e l'edicola.Il progetto prevede un'esclusione della piazza dal traffico veicolare. Solo sui lati corti e su quello orientale è ammesso il transito dei residenti, dei veicoli degli operatori del mercato o autorizzati e delle emergenze.
La pavimentazione è unica in piastrelle in gres antigelivo in due toni di grigio.
Piazza Roma will be characterised by Magnolie Grandiflora around the public market and by small prunus cerasifera around benches and green areas. On corners of the structure there are florist and paper shop.
The project exclude square from veichle traffic. Resident traffic, public market operator traffic and emergency veichles can pass on short sides and on the east side of the building.
The only floos is made by antifreeze grey gres tiles.