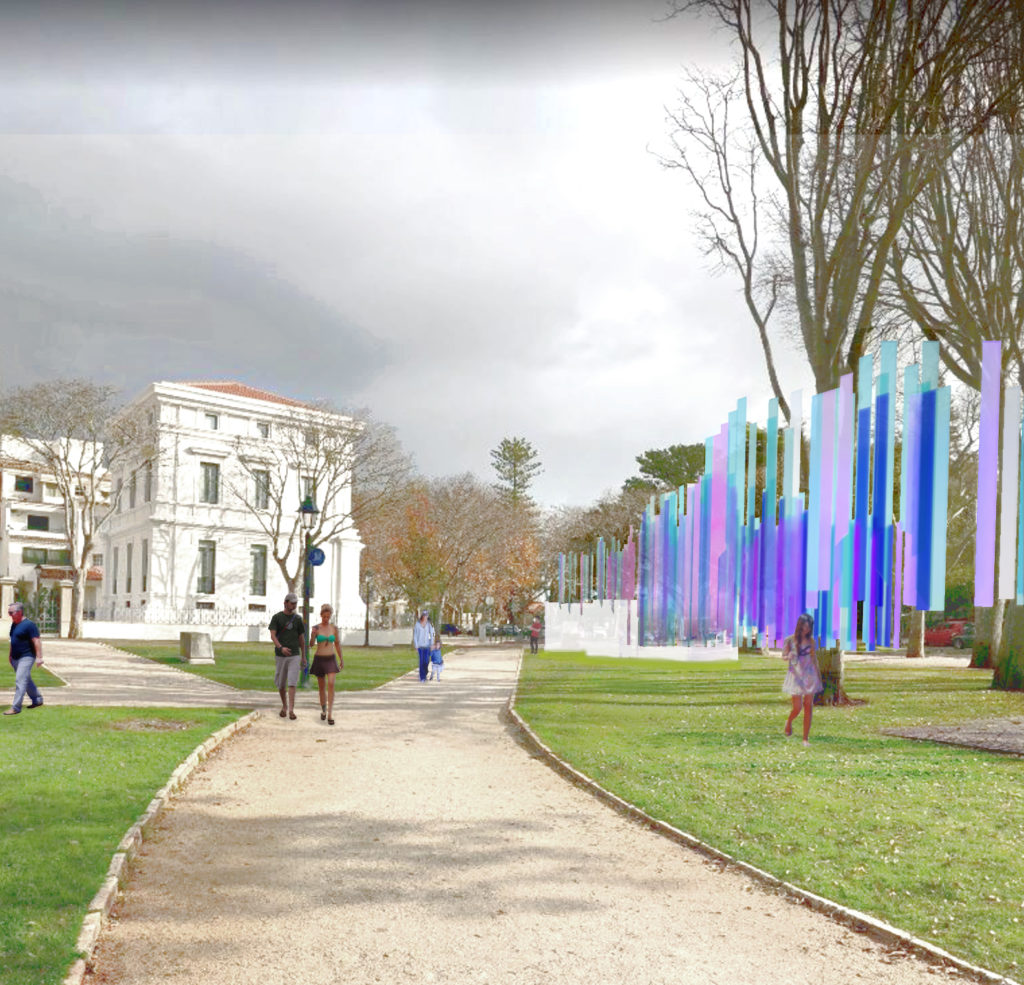 La proposta
La nostra proposta è un'onda rovesciata concepita come una tempesta di strisce colorate sopra al parco. Ha la forma di un'arena attorno alla Sommer House ed è completata da un'installazione computerizzata che, al rilevamento del movimento delle persone, genera differenti suoni acquatici (es. un fiume o il ghiaccio in un bicchiere, etc.).
Il processo costruttivo
La WaterCloud può essere costruita usando strisce di cellophane sospese a una rete di sottile filo metallico, la quale è fissata usando dei pali. Questi ultimi sono collegati agli alberi tramite delle cinture di fissaggio in tessuto.
La proposta del curatore
Quattro luci, legno e tulle compongono I padiglioni (isole di gelatina) che sono progettati per cambiare forma facilmente al fine di rispondere alle esigenze del direttore. In questo modo possono diventare delle sale espositive per visualizzazioni artistiche o aree commerciali per servire eventi più grandi (come concerti o conferenze).
Partendo da questo concept basico, questa flessibilità ci dà l'opportunità di impostare una proposta completa in accordo con il Comune di Cascais.
The proposal
Our proposal is an upside-down sea wave conceived like a rainstorm of coloured stripes above the park. It is shaped as an arena around the Sommer House and it is completed by a computerized installation which – detecting people movements – generates different water sounds (e.g. a river or ice in a glass, etc.).
The construction process
The WaterCloud may be made using recyclable cellophane stripes suspended to a net of light iron wire which is fixed up using poles. These are linked to the trees with textile fixing belts.
The curatory proposal
Four light and little wood and tulle made pavilions – Jellyfish Isles – are designed to change shape easily to response to different curatory needs. This way they can become exhibition rooms for art display or commercial areas to serve bigger events (like concerts or talks).
Starting from this basic concept, this flexibility gives us the opportunity to set a complete curatory proposal in agree with the Cascais City Hall.